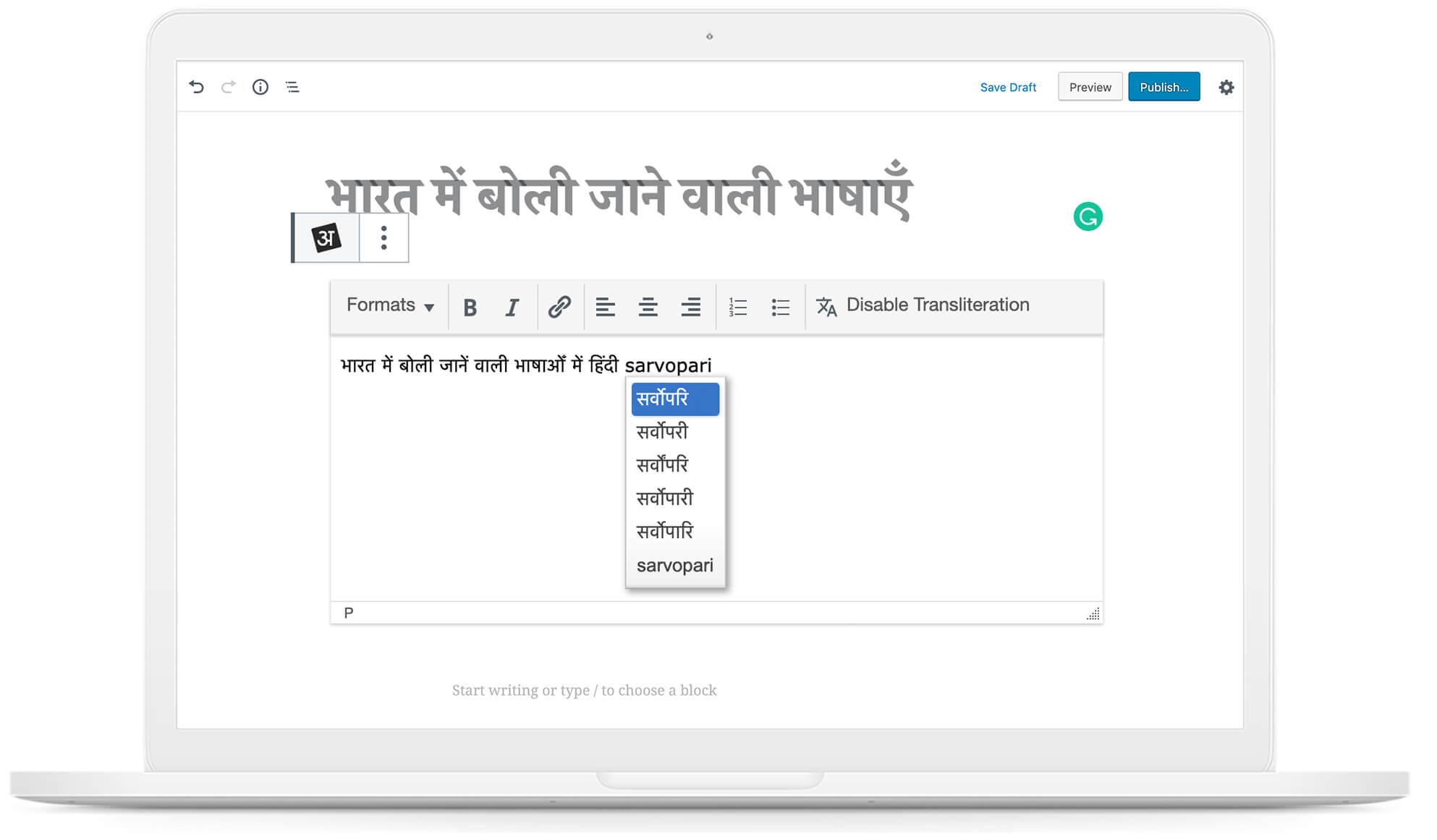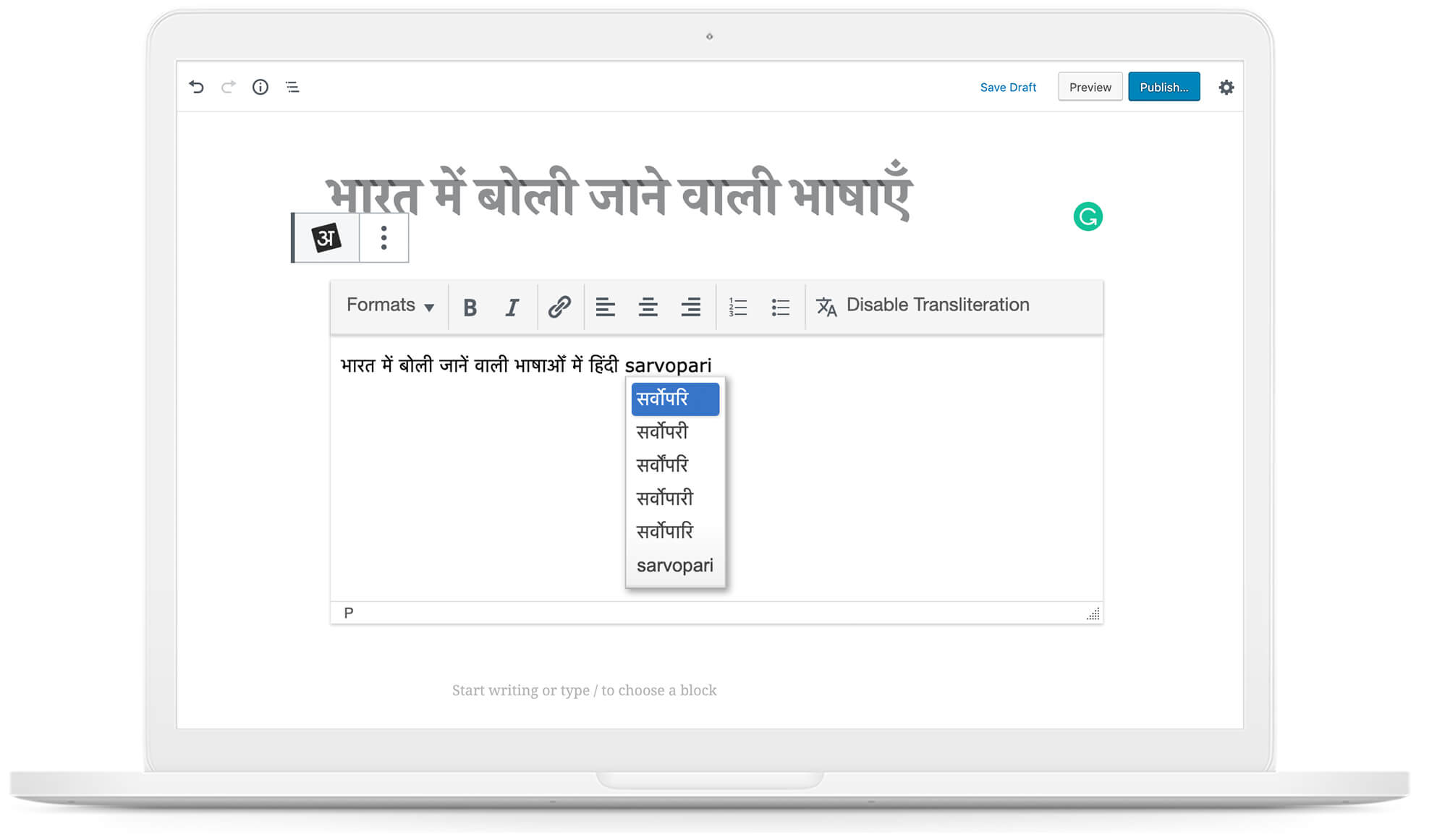 The Only Hindi Typing WordPress Plugin
WPHindi is the only WordPress plugin that lets you type in Hindi inside your WordPress post editor. Here are some of the reasons you should start using WPHindi right now. 
Works flawlessly with Gutenberg
The first & only Hindi typing plugin that seamlessly integrates with the latest Gutenberg block editor.
One-Click Enable/Disable
Switch between Hindi and English typing with the click of a button. Save time by not switching between browser tabs.
HTML Support
Want to add custom HTML in the text? WPHindi lets you easily add your HTML code inside the block.
Easily Add Rich Text
Easily bold, italicize, underline or highlight your text with the available markup options right inside your post editor.
Extremely Fast Text Conversion
WPHindi converts your text as you type. It's is so robust and fast that you won't even notice any difference.
Amazing Support
If you run into any problem, write to us using the plugin support forum and we'll solve your issues in no time.
Did you know over 40% of the Indian population considers Hindi as their mother tongue? That is over 52 crore (520 million) people.
To cater to the needs of these people a lot of Hindi content is regularly published and a significant part of it is published using WordPress. However, one of the biggest challenges faced by webmasters is the limited ability to be able to type in Hindi inside the WordPress editor.
There are third-party tools available like Google Input Upkaran but the problem with these tools is that you have to keep a separate browser window open, type your story paragraph wise, copy each paragraph in your WordPress editor and then publish it. Moreover, there is no option to disable text conversion if you want to include English words in the paragraphs. If you are a Hindi content publisher, you can easily understand how big of a pain in the butt it can be. 
We discovered this problem when one of our partners approached us to code a custom plugin for them which could let them type in Hindi inside WordPress editor.
We quickly realized the scale of the problem after our research and decided to make the plugin available for free to use to every webmaster including them. We at Zozuk firmly believe technology should not limit anyone from creating great, meaningful content and that's how WPHindi was born.
As per our user feedback, on average, you can save at least 20% of your time when using WPHindi to type in Hindi inside WordPress editor.
Stop wasting your time and effort. Typing in Hindi has never been easier. Download WPHindi today.
Frequently Asked Questions
Do you have a question about WPHindi? Please check the list below for our most frequently asked questions. If your question is not listed here, then you can contact us.
Who should use WPHindi?
WPHindi is the most powerful software available to type in Hindi inside WordPress editor. If you are a Hindi content publisher who uses WordPress and wants to save time and increase efficiency, then you need WPHindi.
Do I need to pay for WPHindi?
No. WPHindi is absolutely free for anyone who wishes to type intuitively inside WordPress editor in Hindi. We are constantly working to bring you more exciting features and it involves various costs. Please consider donating any amount you like if you find the plugin useful. ❤️
Is it difficult to setup WPHindi?
Absolutely NOT. We've made WPHindi an extremely simple plugin to use. All you need to do is
install the plugin
and you are good to go.
Do you provide free support?
Yes. All WPHindi users are provided free of cost support whether you are the free version or an add-on. The paid add-on users' queries are however answered on priority. Feel free to ask questions on the plugin contact page.
How do I enable Hindi typing in comments?
You can easily enable Hindi typing using  'WPHindi for Comments' add-on. The add-on is currently beta and available to selected users. You can expect a stable release in the next few days.